| | |
| --- | --- |
| Suzuki official comunicate | Quelle: Roberto Magni by Foto ReD Media Suzuki |
Oberammergau im Zeichen der Welt
Verantwortlicher Autor: Dieter Theisen | Oberammergau, 05/07/2022, 09:51 Uhr
GDN -
Das Leben und Leiden Christi in vielen opulenten Machwerken
zu sehen. So auch bei den Passionsspielen in Oberammergau
die jetzt erneut in der Zeit vom 14.Mai bis 2.Oktober ihren Höhepunkt
findet.
production of the A380 finished
Verantwortlicher Autor: Roberto Magni By Foto ReD Photographic Agency | BOLOGNA, 04/24/2022, 10:20 Uhr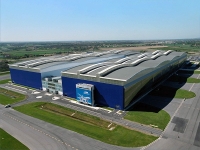 GDN -
Airbus from 2022 will no longer produce the A380, the giant of the skies.
Let's see How Where the giants Airbus A380 were built
The Jean-Luc Lagardère site, final assembly and preparation for flight of the A380.
| | |
| --- | --- |
| | Kurt U. Heldmann |
| | Ekkehard Boldt |
| | Hartmut Butt |
| | Dieter Theisen |
| | marcel nowitzki |